Coaching Heavy with PNW Tech Coaches
I have the best job in the world! My name is Tracy Brown, and I have the opportunity to be a technology coach for the Enumclaw School District located in the foothills of Mount Rainier in the state of Washington. As a technology coach, I work with teachers and students everyday to engage students to connect, create, collaborate and communicate through the use of technology. Another aspect of my job is to coordinate a monthly meeting of technology teacher leaders in the area so that we can learn from one another and stay current in the ever-changing technology world. This group has met for several years and has built quite a following. Nothing compares to the response we received when we had the opportunity to work with Kim Cofino, an Eduro Learning founding partner and Director of Learning. Kim graciously came  and worked with us for the day and modeled what in-depth coaching training could look like.
On November 9, 2016, technology teacher leaders representing 25 districts from the Puget Sound area and one Education Service District (ESD) came together to explore how the coaching of teachers in our respective districts impacts student learning. We began with a discussion of heavy coaching vs. light coaching. According to book Instructional Coaching: A Partnership Approach to Improving Instruction by Jim Knight, both concepts depend on the coach's perspective determined by how they talk about their work. "Coaching light occurs when coaches want to build and maintain relationships more than they want to improve teaching and learning" (p. 22). "Coaching heavy, on the other hand, includes high-stakes interactions between coaches and teachers, such as curriculum analysis, data analysis, instruction, assessment, and personal and professional beliefs and how they influence practice" (p. 23). The purpose of this work is to improve teaching and student learning.
The title of this concept was new to me, but it truly describes the work that I have been doing for the past decade. I had several take-a-ways from this portion of our morning. First, I was reminded that building relationships with the teachers I work with is the foundation of being able to coach. I am a relatively new coach in my current district so building relationships is paramount to my work with teachers. It takes time and many coaching sessions to be able to move from light coaching to heavy coaching. Luckily, in our district we are partnering with Jeff Utecht as well. As a consultant, it is fascinating  to watch him move to heavy coaching quickly in his work with our school board, leadership and operations teams, and our teachers. This gives Bob Kilmer, my co-coach, and me the ability to be the coaches that come in with the how instead of the why. Jeff has the ability to cut through the excuses so our teachers are excited to learn the how and begin making true change in their teaching practice. Bob and I truly believe that this partnership is the main reason that our students are engaging in learning with technology tools that help them create, collaborate and communicate across space and time. Until my time with Kim, I didn't have the words to describe our district partnership with Jeff. Now I do. I am thankful everyday that my technology director and my superintendent have the vision and forethought to make this partnership happen.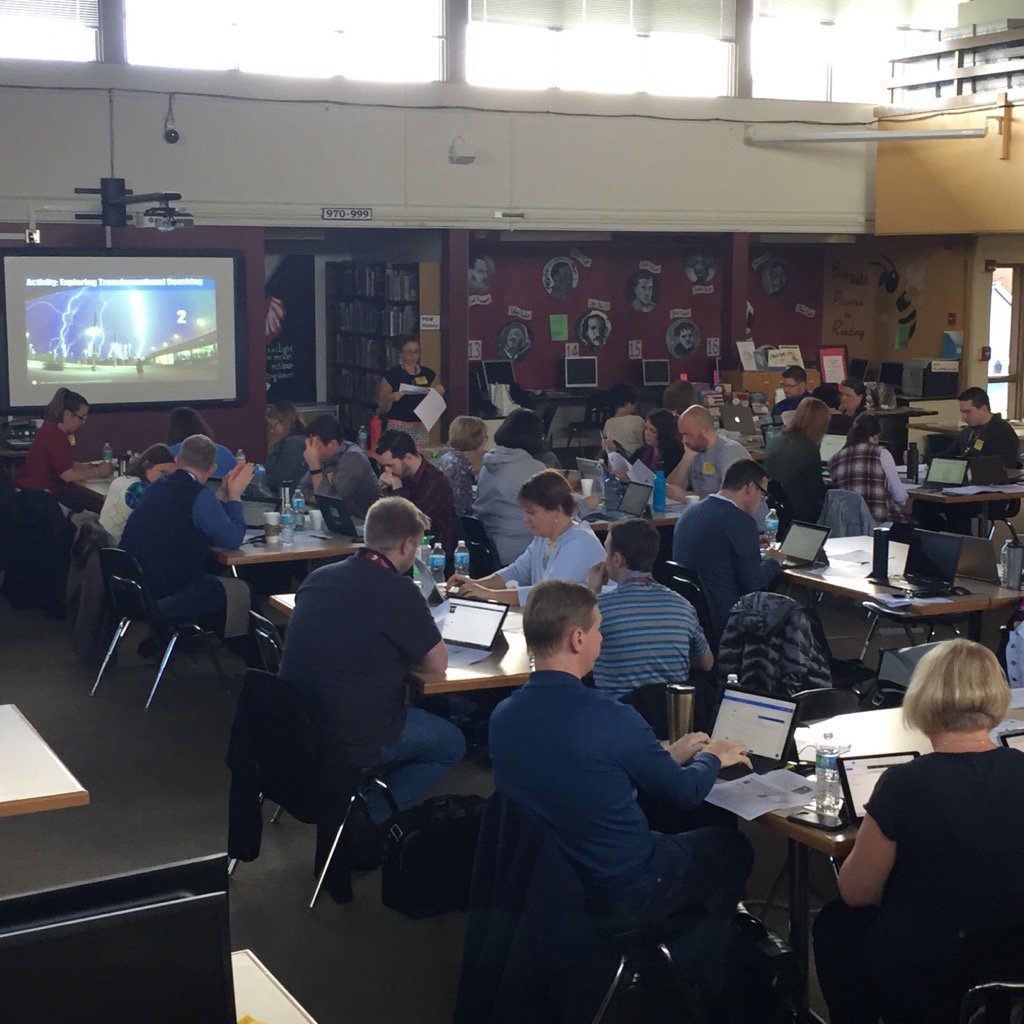 In the afternoon, Kim did some heavy coaching with us. She shared the Transformational Coaching Rubric from Elena Aguilar's work The Art of Coaching: Effective Strategies for School Transformation (San Francisco, Jossey-Bass, 2013). This rubric defines true coaching that gets to the heart of student learning and transforms practice. This concept changed the conversation in the room. Many of the teacher leaders realized that they may not have been hired to do this type of work. Their job descriptions may be less focused on coaching and more focused on training and skill development. It was very interesting to me to see the shift in the conversation. Some of the teachers struggled to define their work because their heart is in coaching, but the tasks of their job may take them away from this. I thought we were all coaches that transform teacher practice through the teaching of the skills that engage our students in different ways. The conversation led to a sharing of job descriptions of the districts in the area where coaching is the focus and skill development is the way to get in the classroom door. For me, the best part of the whole day was watching Kim model the change from coaching light to coaching heavy. She was able to facilitate a difficult conversation with ease.
Kim's training gave all of us the opportunity to reflect on our practice and add tools to our coaching toolbox. She confirmed why I love what I do. Coaching teachers to to connect, create, collaborate and communicate through technology will improve student learning.
Photos by Tracy Brown and Chris Beals