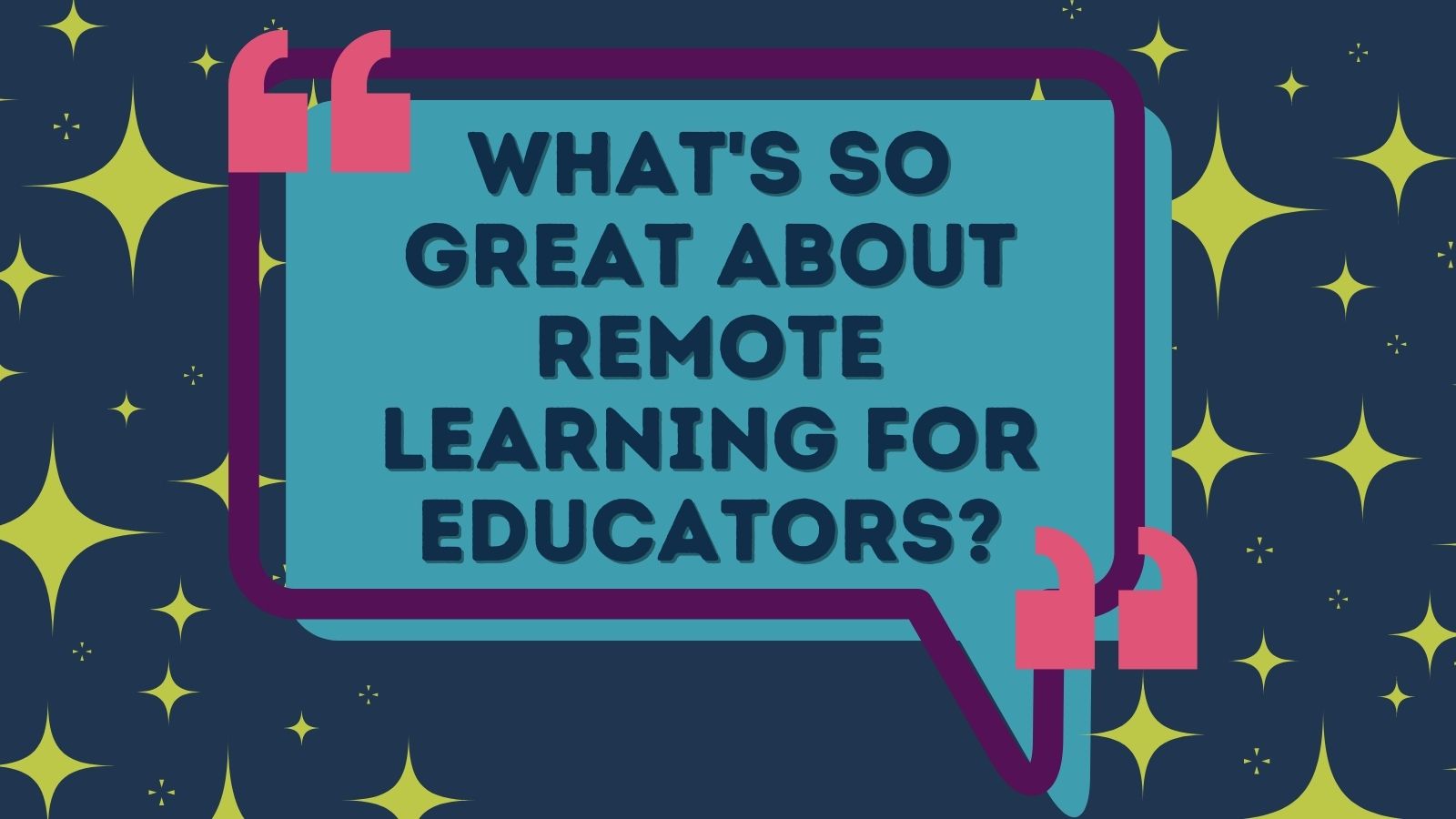 If you've been part of the Eduro community for a while now, you know that we've been offering remote learning for educators for over a decade.
We know that it's not always possible to connect in person with just the right people at just the right time around just the right content.
That's why we believe in remote professional learning for educators – when it's done well.
You're not always physically in the right setting for your professional growth, and we want to give you the opportunity to get there – no matter where you happen to live right now.
Plus, once you have that quality experience, you have a clearer picture of how you can provide that for the students in your context.
Do you have your doubts about remote PD?
If you're still not sure, you'll definitely want to listen to today's episode of the #coachbetter podcast. Clint & I are chatting with Becky Green, Associate Director of Professional Learning at Global Online Academy!
This conversation is absolutely essential for all educators because it helps clarify:
why we need to engage in online learning experiences for ourselves,
what makes them relevant and engaging for students, and
how we can build equity and empathy in our digital and physical classrooms by better understanding what online learning has to offer.
If you haven't jumped into any online learning experiences for yourself yet, now is the time.
The opportunities that technology brings to our classrooms doesn't stop at remote learning.
Experiencing an effective and engaging online course will help you
bring those elements into your physical classroom,
be prepared when there is disruption during the year, and
better support the teachers and leaders you work with.
Learn how to design powerful remote learning with this week's #coachbetter conversation!
It was so great to have this conversation with Becky because it really helped me articulate some aspects of remote learning that had been swirling around in my brain for some time….
What's great about remote learning?
When you're intentionally building remote learning experiences you have the benefit (or advantage) of taking in the uniqueness of online learning – which is getting connected globally.
In all three of our certificate programs, the core of the program is the global cohort.
It's the personal connections between the people, starting and being together for a period of time, feeling like you're building a community, you're connecting with these people that you have beyond just the scope of the course.
Sometimes it's hard to articulate the value of community in online spaces because we're so used to it being either:
self paced (with no interaction with others), or
teacher directed (come to this course at this time and listen to a lecture and maybe you get to ask a question)
because that's usually what happens in online learning as we know it.
But when you're building these really relational and community driven environments, which is what's happening in our Eduro Learning Certificate programs, you build this interconnected network of people on a global scale.
It's the personal connection that takes away the frustration of being behind a screen, it humanizes the experience.
Find learning that helps you connect and grow
When you're doing meaningful work with others, you start to connect and grow, and you can bring that work back to your school community. When you create true communities of feedback and authentic collaborative processes in professional learning, you can bring that back to your classroom.
This is what makes learning with Eduro so special.
These are not your "typical" online learning experiences (or face-to-face learning quickly brought online due to the pandemic).
Our Certificate programs (The Coach, Women Who Lead, and COETAIL) were designed with the intention of bringing the best that online learning has to offer, with the learner and the community at the heart of the experience.
We only open registration for certificate programs once a year so we can build those learner centered communities that make a direct impact on teaching & learning in your school setting.
Want to join us?
Check out our programs:
Maximize your impact as an instructional coach by finding clarity in your role, building confidence in your unique coaching voice & implementing successful coaching cycles with more coachees than ever before! Build the foundations of a thriving coaching culture in just one academic year!
Recognize, articulate and leverage your leadership with Women Who Lead! Conquer imposter syndrome & manage the unique challenges women face pursuing a leadership role with the personal stories, advice and experiences of over 70 successful female leaders from around the world.
Leverage the technology you have in your classroom, to foster student agency and individualize learning. The Certificate of Educational Technology and Information Literacy will teach you how to create innovative, engaging and authentic learning experiences with a global cohort of educators for support!