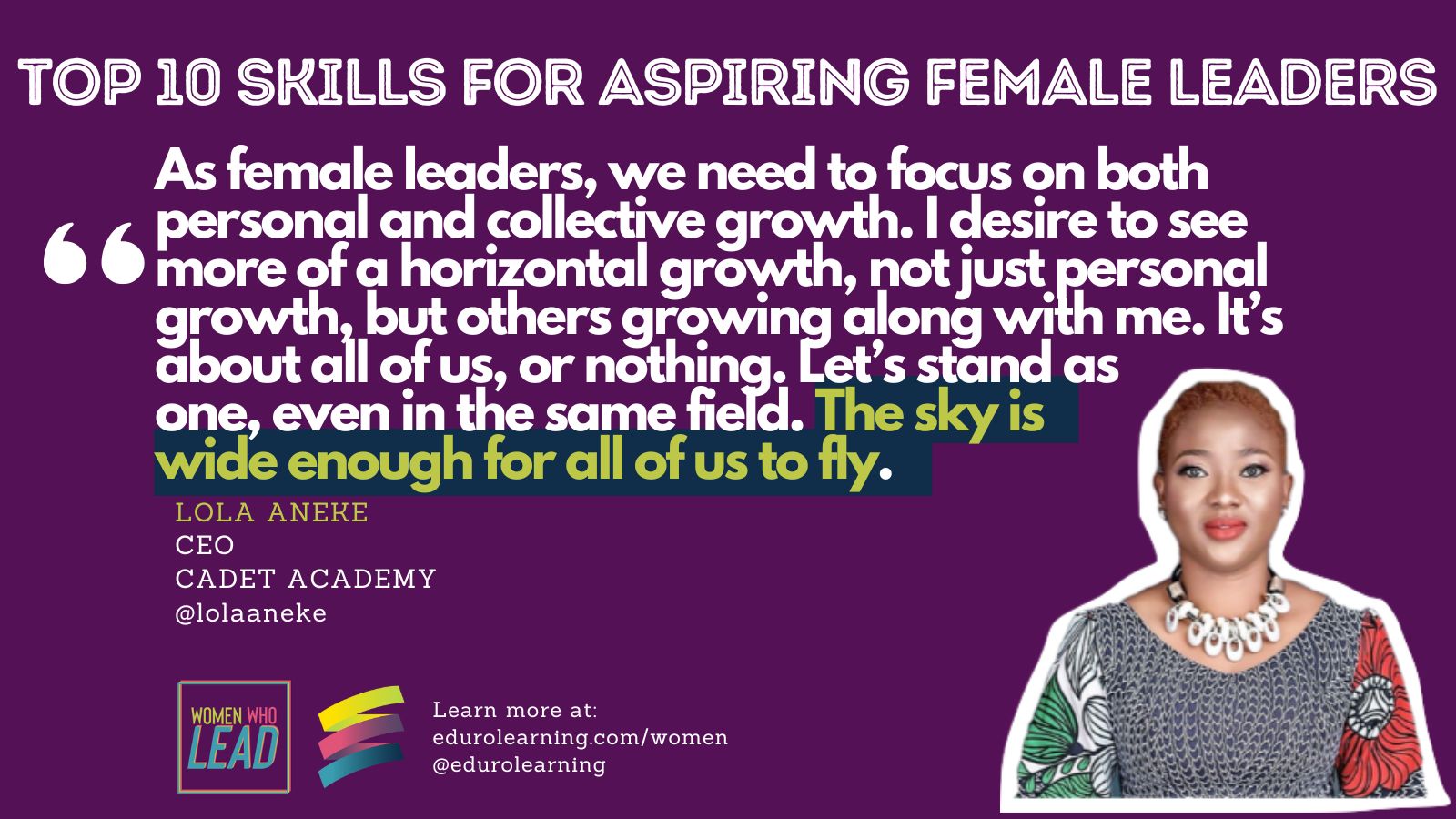 When we think of leadership skills, we often think of traditional stereotypes like commanding a room, or telling people what to do, or being the key decision maker. However, over the last few years, we've seen those established norms become less and less effective. Living through crisis has taught us that leadership can look very different – and for most people, this is a very welcome change.
In the Women Who Lead interviews (https://edurolearning.com/women/), I asked our 70+ women leaders what are some of the most essential skills for emerging leaders today. Although they each had their own perspective, today I'm highlighting 10 of the themes that emerged that can represent a very well-rounded, and likely non-traditional, leader today.
1: Agility
A very common theme that came through was the need for agility and flexibility. Dr. Nneka Johnson, Director of Innovation at the International School Dhakar, referenced needing "to be able to think on the spot, be ok with change and work through that. Life is always going to be changing, that is a skill that will serve us well in the future."
Along those lines, Carla Marschall noted the need for cognitive flexibility, and being able to adapt messaging, communication, and thinking styles based on the needs of the people you're with in the moment. Caroline Brokvam highlighted hte importance of non-binary thinking, and being able to see multiple perspectives, and making that a part of the operating procedures of your organization.
In being agile, Bin Li, Deputy Head of School, Chinese International School Hong Kong encourages "allowing ourselves to fail, to have a second chance, so that when you fall down, you have the courage to pick yourself up, dust yourself off and keep going."
2: Authenticity
Many women mentioned the importance of developing a sense of self, and recognizing the importance of trusting your instinct. Sawsan Jaber, Founder and Consultant, Education Unfiltered, spoke about the importance of women sharing their voice fearlessly. "We've been muffled for such a long time. We have to get to a place where we have enough camaraderie and sisterhood with each other and our male colleagues that we need to be able to share fearlessly."
Liz Kleinrock, ABAR Educator in Progress, Teach and Transform says: "It's important to be unapologetic and take up space. You get so many messages your whole life that are the opposite of what you should be doing. We're seeing a lot of redefinition of what it means to be a woman, there's a lot more space for women to carve out that path for themselves. To choose the language they want and mirror who they are authentically."
3: Leadership at Any Level
Because we have been socialized to expect a certain leadership stereotype, Deb Welch, CEO, Academy of International School Heads says women need to comfortable to be themselves as a leader. "We don't have to make ourselves in the mold of someone we think is a good leader. There are many different forms of leadership." To do this, women need to have a keen self awareness of their strengths and be able to recognize when and where they are leading – even if not in a formal role at the time.
Katrina Charles, IBDP Coordinator at the American School of Doha, recommends that aspiring leaders "utilize the current skill set you have to be a leader within that current position. There's leadership at every level, so bring the best you can to that particular position. Don't look at tasks as if they're too menial for you, every little bit you do helps contribute to the greater good. You need to be able to see the glass as half full." Being able to have a positive mindset towards your current responsibilities and demonstrate some "traditional leadership" skills like time and project management at any level can help with this.
4: Emotional Intelligence
Emerging as a key priority in our ever more demanding world is demonstrating care and kindness. Jennifer Tickle, Secondary Principal at Dresden International School says, "as leaders, we have to care, and we have to show that we care. We can be kind while still leading, and we need to be kind to ourselves as well. Care and kindness need to be de-gendered, and seen as essential components of successful leadership."
The complexity of emotional intellegence means that leaders need to care for others, and build trust by being vulnerable, and then balance all of that with being firm, brave and courageous. Carlene Hamley called this "grit and grace" saying that as a female leader, you often have to dig a little deeper, sometimes demonstrate a little more, because the situation requires it. She notes that women leaders have to be "brave enough to have that grit and stamina to keep going because you believe in yourself, your project, your passion".
5: Inspiration
Definitely a "traditional" skill, but one that came up again and again was the ability to inspire. Katie Koenig, Elementary Principal, American School of Rabat, described it as presence… "Presence with people in listening so that they see you, and they know that you care. In the future we are going to be doing more crisis management, more complex change, more problem solving. It's easy to come up with bad solutions because you're not actually listening to people."
Other leaders referenced the importance of leading by example, and demonstrating your passion. Kathleen Naglee, Head of School at the International School of Helsinki talked about the importance of people feeling "the charisma of your vision" and "wanting to be around that excitement and passion". If you can build into your passion, find the research, and connect with others around your passion, you'll build that ability to inspire.
Sheena Nabholz, Head of School, Lincoln Community School echos this sentiment by focusing on communication. She says, "communication differentiates between a good leader and an excellent leader. It's not leadership if no one is following you. How do you communicate a message, inspire and influence people?"
---
Uncover YOUR Leadership Potentential
Uncover your leadership potential with our new FREE leadership inventory.
This interactive resource highlights the 15 essential skills for emerging leaders that our Women Who Lead referenced in the interviews.
You'll get a consolidated look at the leadership skills that are essential for leaders today – and the opportunity to reflect on how you're doing, including your unique strengths and where you have room to grow!
Access the Leadership Inventory here!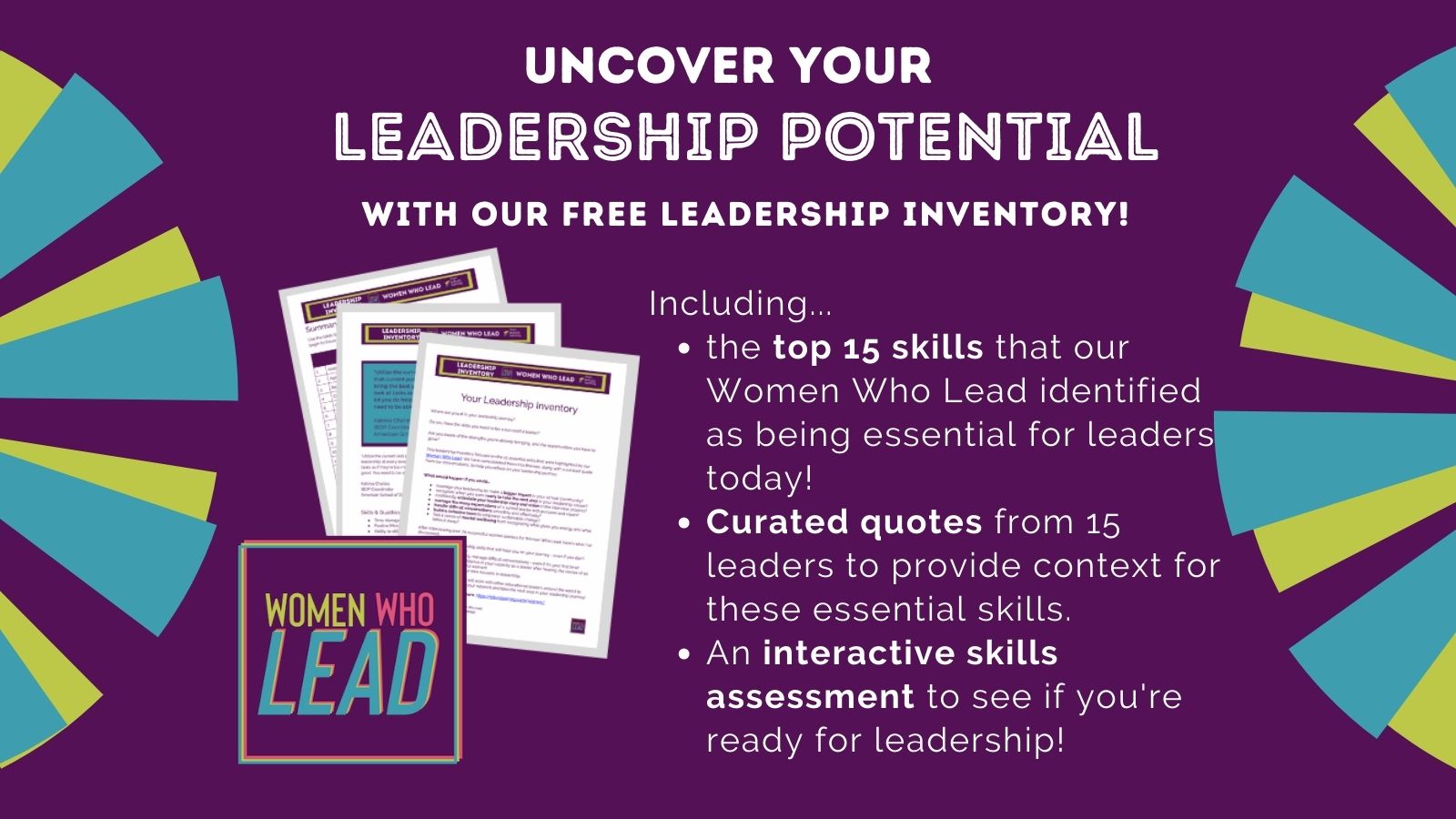 ---
6: Integrity
Caroline Brokvam, Director of the American School of Antananarivo highlights the importance of having self awareness, and an awareness of your own vulnerabilities and biases. As leaders, we all know we have them, and how you deal with them is very important. She points out: "unless you put process, practices and procedures in place to make sure you can't act on your own biases it makes no difference in organizations."
Integrity, intercultural competence, fairness and equity came up time and time again in these conversations. Madeleine Heide, Head of School at Lincoln American International School in Buenos Aires, noted the importance of being open to other perspectives, from ethnicity, language, and culture so we can communicate across boundaries.
7: Inclusion
Fay Leong, Director of Director of Curriculum and Assessment, Hong Kong International School, notes that "women are not used to taking voice, we allow ourselves to be drowned out. I am regularly asking myself: What opportunities have I crafted to ensure that everyone is required to take voice? If we don't give them the opportunity to take voice, how will they know if they have a voice? You allow people to stand up and find a voice they didn't know they had."
Similarly, Michele Mattoon, Executive Director of National School Reform Faculty, talked about Facilitative Leadership, and Lola Aneke, CEO, Cadet Academy, discussed collective growth. Lola points out that ok to have different leaders in the same field. She is looking for "more of a horizontal growth, not just personal growth, but others growing along with her." She says: "It's about all of us, or nothing. Let's stand as one, even in the same field. The sky is wide enough for all of us to fly."
8: Financial Literacy
Grace McCallum, Elementary Principal at Frankfurt International School notes that "An unfortunate reality in the leadership community is that it is still assumed men are more financially literate than women. Being comfortable talking about money, and speaking to the state of the economy and economic trends is very important for aspiring leaders." Along those lines, data literacy and developing an Entrepreneurial mindset become more valuable the higher you go in leadership.
9: Connection
Nathalie Henderson, Chief Schools Officer, Indiana Public Schools notes that "women tend to shy away from using political skill. They don't want to be considered manipulative or selfish." She points out that political skill is about how do you leverage or maximize relationships in order to meet organizational goals, personal professional goals or team goals. She says, "situating what you think you need for your students is a political skill. You have to employ political skill, you can't spend all your time getting context in order to be able to act."
Developing skills around influence, systems thinking, networking, respect, connection and collaboration are essential for all leaders, and in particular female leaders. Chanel Johnson, Math & Science Specialist, Texas, USA notes that "a key skill for aspiring female leaders is the ability to connect with people different from you: looks, cultural, economics, backgrounds and overall a different mindset. It can't be the same people who think like you, look like you, feel like you. Connect with people, because we can't get there on our own. We all think differently and we all have different experiences. It's our diverse experiences that help us grow and learn, having different people with different experiences is an important skill for us to have and seek."
10. Vision
Finally, Kathleen Naglee, Head of School at the International School of Helsinki, says "having your vision for education, understood by you, is the most important skill for women pursuing a leadership career. You must have the examples, understanding, and stories built throughout your career that you can convey in a way that people want to listen to. This is the only skill that matters." As a leader, you need radical imagination, the ability to think creatively, envision the future, to see what you want to create. It's this vision that help you build community, connection and clarity around where you can go.
Take time to Reflect & Set Your Own Goals
If you're considering stepping into leadership in the future, this article may provide an opportunity to reflect on your current practice, so you can see where you have opportunities to grow. If you're ready to learn with others, in a community of aspiring and growing female leaders, we'll be using these foundational skills in the Women Who Lead program as a starting point for goal setting. Annual cohorts open for registration once a year, find the details at: https://edurolearning.com/women/
Join the Cohort!
Hear more from our successful women leaders and learn the exact strategies they use to find a space of wellbeing! Learn from the stories of over 70 successful women leaders and build your professional learning network inside Women Who Lead!
Find out more at: https://edurolearning.com/women/.