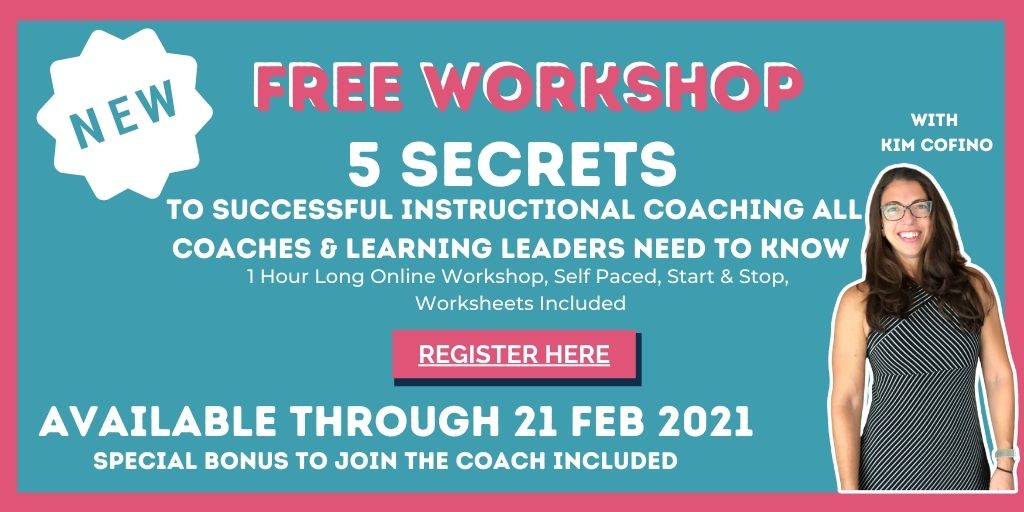 Instructional Coaches & Learning Leaders!
Does this sound like you?
–> Are you ready to make a bigger impact in your school setting this academic year?
–> Have you been struggling to find just the right way to support ALL your teachers with so many different needs?
–> Is it time to maximize the coaching you've been doing to build a coaching culture within your school?
Join our Free Workshop!
We have been working on something just for you! And it's available right now! During this FREE 1-hour workshop, you'll learn how to …
Articulate and implement a coaching cycle in your school setting
Have better coaching conversations
Confidently ask just the right questions in your coaching conversations
Transition between the many roles of a coach in one conversation or one coaching cycle
Build a coaching culture in your context
Best of all, this self-paced workshop is:
Available right now! I  know how busy educators are – we don't always have the time to schedule in a live workshop – so you can watch (and replay) this one, whenever you're ready! 
Chunked into 5 sections with handy timestamps for you to jump to the section you're interested in – and you can pause and replay any section any time. 
BONUS: When you register, you'll also receive an email with the printable (and editable Google Docs) worksheets to use as reflection prompts throughout the workshop.
Register Here