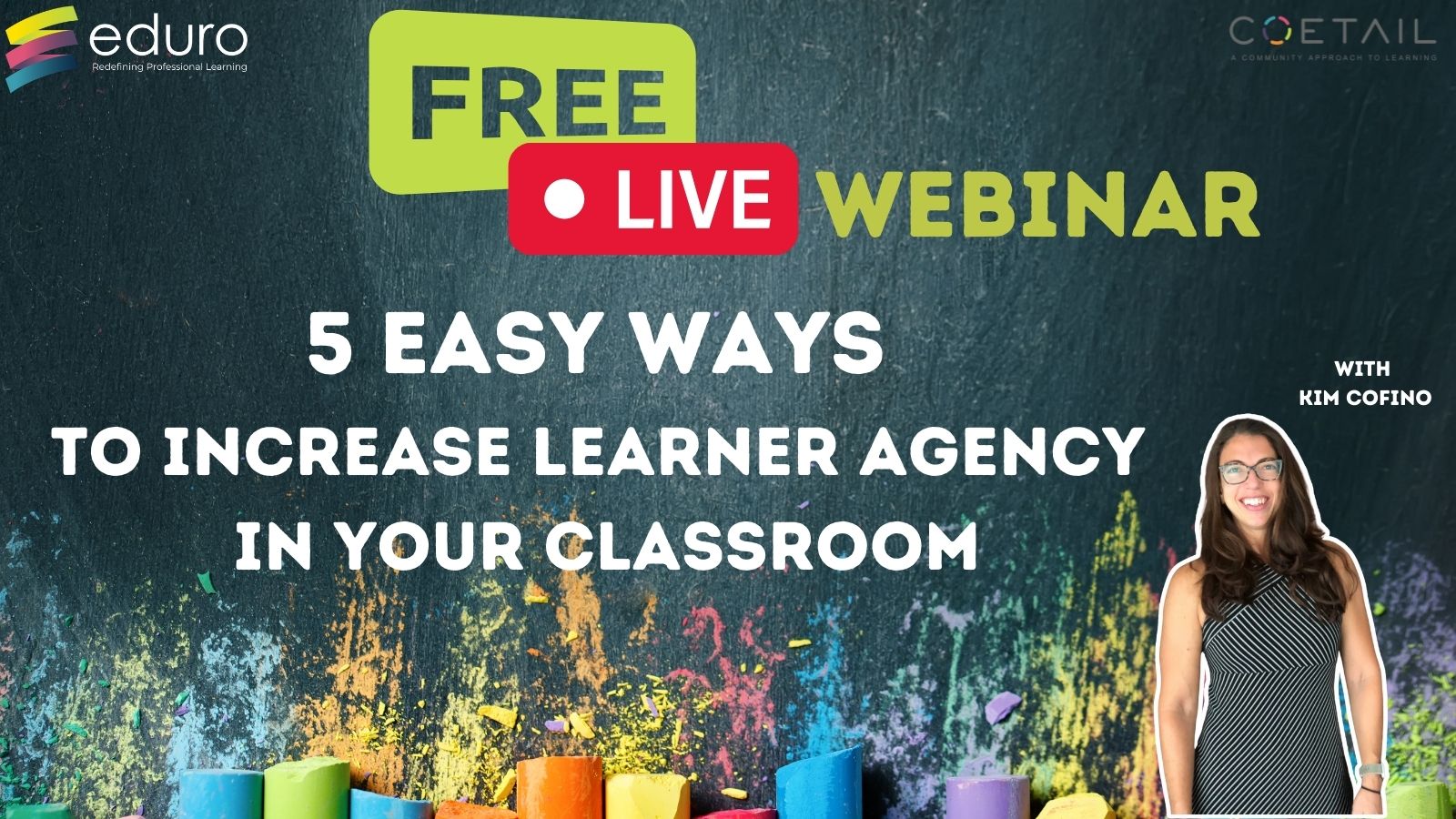 Are you looking for ways to bring more learner agency into your classroom?
Last week I offered a live webinar featuring 5 simple ways to do just that!
And they're all strategies you can apply immediately – without too much prep or stress.
I know you're busy, and you might not have had a chance to watch live, so I've got some good news for you!
We recorded one of the sessions so you can watch the replay – whenever you have time!
Plus you can pause it, or watch in chunks if you don't have time for the full webinar in one go. It's broken down into five 10-min segments, so they're nice & easy to watch when you're ready!
Register to access the replay here!
What's Inside?
Inside you'll find out how to:
🛠 Implement sandbox time to learn new tools & build capacity
🔍 Become learning detectives to better understand the different ways we learn
🏆 Decentralize learning with peer experts combined with self & peer assessment
🎙 Share learning with an authentic audience, beyond the 4 walls of your classroom (publicly or privately)
⚾️ Restructure assessments to provide opportunities for students to pitch their own ideas
Register to access the replay here!
Are you ready to…
offer more voice & choice in how students learn & demonstrate their learning in your classroom?
learn how to leverage classroom time to try new tools with your students?
engage your students in feeling ownership over their own learning – that allows you to facilitate without getting stressed?
recognize the ways that you can grow as a learner too?
feel connected to a community of like-minded educators who are leveraging technology for learning in innovative ways around the world?
There are so many exciting ways to bring more student agency into your classroom – and they don't have to be complicated or challenging for you as the teacher.
If you're ready to let your students lead their learning, while leveraging the technology you have in your classroom, this webinar is for you!
During the webinar, we'll talk about …
Creative ways to increase student agency in your classroom
Simple & effective strategies to empower your students to lead their own learning
The importance of sharing learning with authentic audiences to make learning relevant & purposeful
How you can get connected with a global network of educators bringing student agency to life in their classrooms too!
BONUS: When you register, you'll also receive an email with the printable (and editable Google Docs) worksheets to use as reflection prompts throughout the workshop.
Register to access the replay here!
All of these ideas are inspired by the learning transformation that happens inside the COETAIL program. Yes, there are simple strategies in the webinar that you can apply immediately, but the session (and COETAIL) are really about making a mindset shift in how you see learning happening in your classroom.
When we ask our graduates about their key learning inside COETAIL, this is what they say:
If you're ready to embrace more learner agency AND bring new, innovative approaches to learning to your classroom, COETAIL is for you! Registration is open now until 14 Nov 2021.
Curious?
​Find out more about COETAIL here!