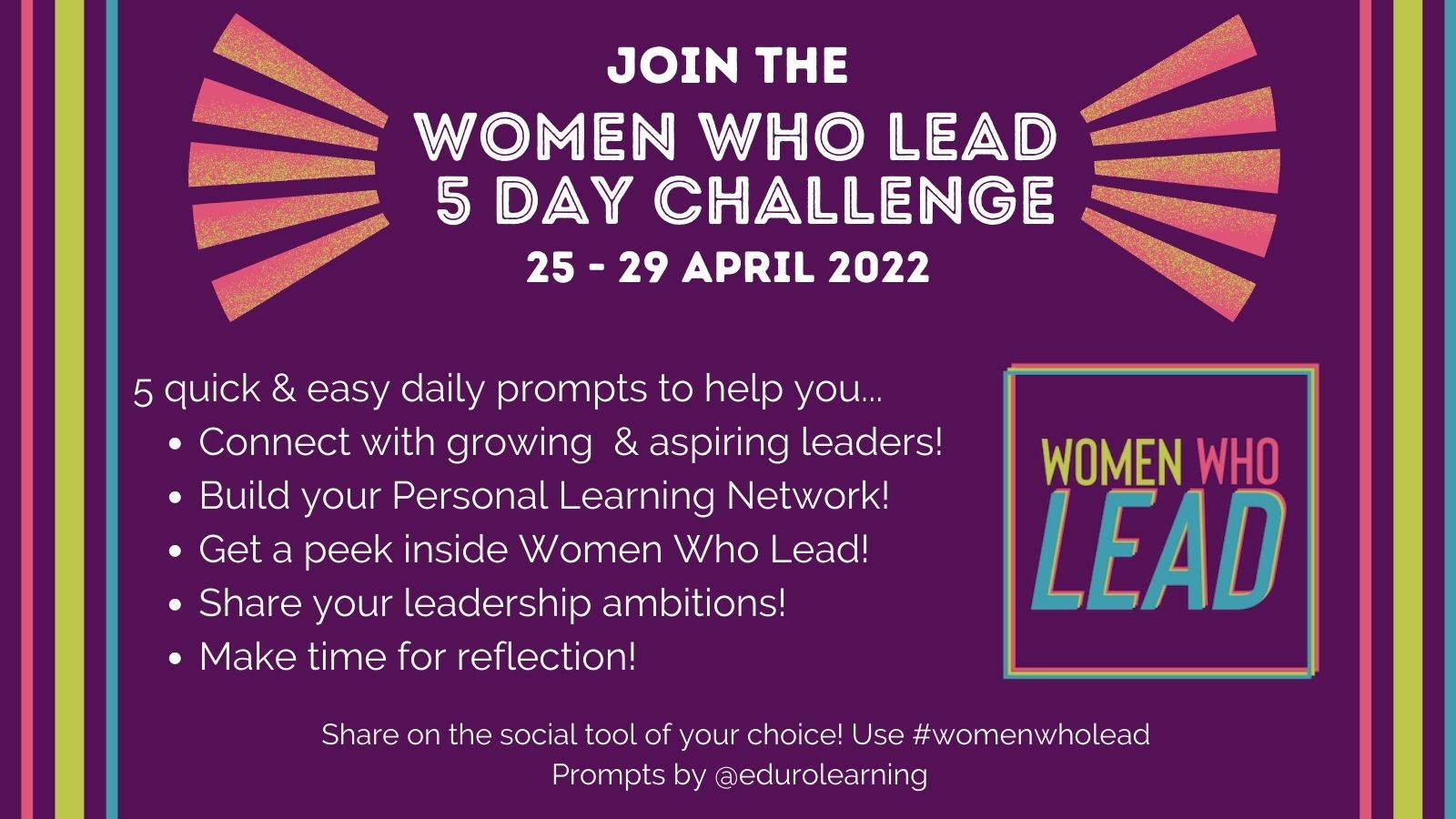 Are you thinking about making the leap into leadership?
Is it time to step up and share your leadership ambitions?
Are you ready to start making connections with other growing & aspiring leaders?
That's why we created the Women Who Lead 5-Day Challenge!
Often, we feel afraid to share our true goals because we're worried about how we'll be perceived if things don't go according to plan.
But in reality, sharing our ambitions and the process of getting there not only takes YOU one step closer to your goals, but you might also inspire others to take their next step too!
Sometimes all it takes is seeing yourself represented in another ambitious educator to recognize that YOU can do it too!
Share your ambitious next step with other growing and aspiring leaders in the Women Who Lead 5-Day Challenge!
Join the Challenge!
We know that connecting with other leaders, and other aspiring leaders, is an essential component of building your network, and your confidence in your leadership journey.
This challenge is designed to highlight some of our favorite moments in the Women Who Lead interviews while providing YOU the opportunity to connect with other like minded educators.
We hope these daily prompts during the week of 25-29 April 2022 will help you reflect on your own leadership capacity as you learn a little bit more about our amazing Women Who Lead!
How Does it Work?
Each weekday from 25 – 29 April 2022 we will be sharing a specific prompt on our Eduro Learning social media accounts (@edurolearning on Twitter and Instagram), with a quote from one of our Women Who Lead.
To participate, all you have to do is post your own response to that prompt on your social media account and tag us with @edurolearning #womenwholead.
To help you be prepared, you can join the challenge here, and you'll get the prompts for the whole week delivered right to your inbox!
You can get fancy and plan your responses in advance, or you can take them one day at a time!
To share your responses, you can:
share your text response to the prompt,
make a social card in Canva,
write your response as text and take a screenshot or photo, or
post your text with a picture.
Whatever works for you, and is shareable on social media will work!
The important part is that you're thinking about your leadership and connecting with other educators on a similar journey.
Sneak Peek!
Get a peek at some of the conversations from last year's challenge:
Ready to join the conversation?