Do you see yourself as a leader? If you're a coach in your school, you are!
Many of my students in The Coach and my private mentoring clients don't feel like leaders when they start working with me. They see themselves as "just another teacher" because they don't have any formal authority. But the reality is, that the work they're (and you're!) doing as a coach is leadership work!
Are you ready to embrace your own leadership potential? Even if you're not a coach (yet) there are so many ways to demonstrate your leadership – formal or informal!
New FREE Workshop!
Get started thinking about your leadership potential with our brand new FREE workshop: Seeing Yourself as a Leader, as an Instructional Coach!
So many instructional coaches, and informal leaders in schools, struggle to see the way that YOU'RE already demonstrating leadership capacity.
This FREE workshop is designed for you!
The half-hour workshop is organized into 3 sections …
Recognizing the Ways You're Already a Leader, As a Coach: Ten key skills you're currently developing as a coach (or a future coach) that will serve you well in any leadership capacity.
Preparing for the Leadership Elements of Coaching: Five strategies you can start to apply right now to prepare yourself for the leadership aspects of a coaching role.
Being Intentional About Your PD: Three reasons why you might want to pay close attention to the professional learning choices you make in the next academic year.
This self-paced workshop is:
Available right now! I know how busy educators are – we don't always have the time to schedule in a live workshop – so you can watch (and replay) this one, whenever you're ready!
Chunked into 3 sections with handy timestamps for you to jump to the section you're interested in – and you can pause and replay any section any time.
Designed for coaches, aspiring coaches, and aspiring leaders in all educational contexts – you'll find specific skills and strategies you can apply immediately!
BONUS: When you register, you'll also receive an email with the printable (and editable Google Docs) worksheets to use as reflection prompts throughout the workshop.

How have you prepared for the leadership elements of your role? How long did it take for you as a coach to see yourself as a leader? What still remains challenging for you? Let me know in the comments below!

Level Up Your Leadership
If you're ready to level up your leadership join one of our certificate programs: Women Who Lead or The Coach will support you in that next step in your professional journey.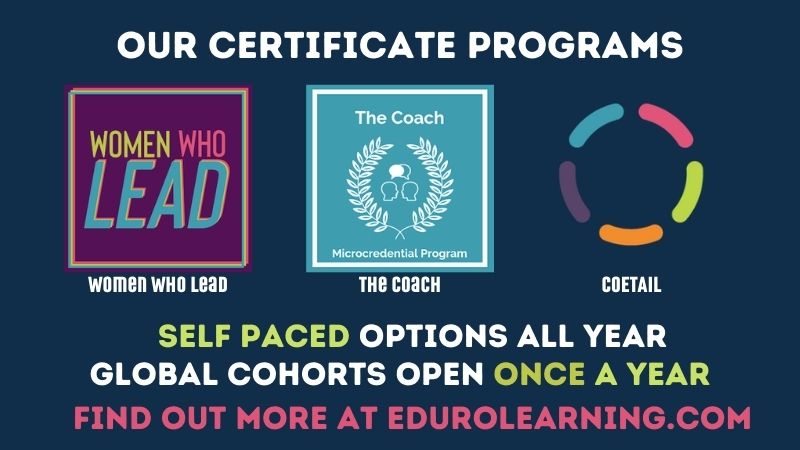 Professional learning for educators at the intersection of technology, coaching & leadership. Empowering the relentless learner in you to embrace your inner leader and make a bigger impact in your school setting. Certificate programs, self-paced courses, workbooks & private mentoring available – designed by educators for educators.