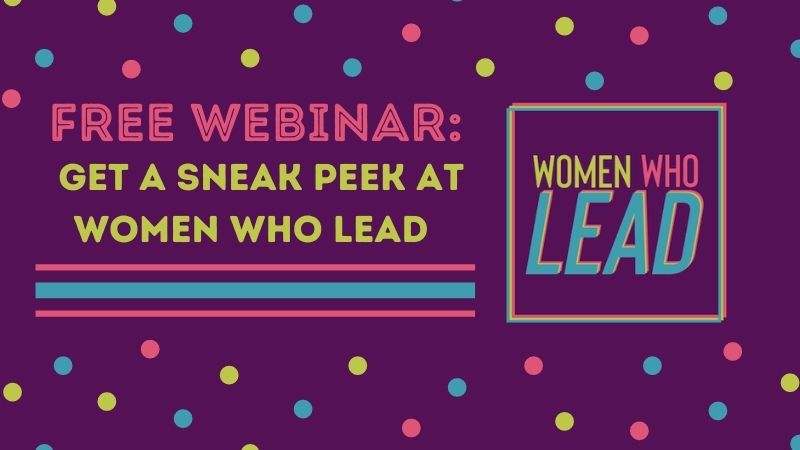 Get a sneak peek at Women Who Lead
We are proud to be working with ECIS to empower women in education to take the next step in their leadership journey. As part of that partnership, Kim will be offering a free webinar on 10 Feb 2021 highlighting some of the key outcomes of the Women Who Lead interviews. We'd love to have you join us: register here!
Webinar Overview
It's been so fun to plan this event, because this is the first time I've had a chance to really pull together the stories and experiences into one short session. It will be structured into three sections:
Facts and Figures: I did a bunch of research on women in leadership in education on a global scale, and putting all that data together in one place is both heartbreaking and informative.
Stories and Experiences: Unfortunately I can't highlight all of the Women Who Lead in this short webinar, so I've pulled together some very specific quotes and stories focused on the unique challenges women face.
Solutions and Strategies: Always my favorite part, I've pulled out some consistent themes that our Women Who Lead highlight as potential solutions to these challenges to help you start to make a difference in your working environment right away.
Webinar Details
Title: Making the Leap: Unique Challenges Women Face in Pursuing a Leadership Role
Description: Over the past year, Kim Cofino has interviewed over 70 successful women leaders in educational settings around the world to better understand the unique experiences women face in pursuing a leadership role. From Heads of School, to Curriculum Directors, to Principals and Influential Leaders, these interviews were designed to be intentionally inclusive and authentically represent the diversity we need in educational leadership. 
This webinar will highlight key takeaways from those conversations, including the ways the following experiences can impact a woman's journey to leadership:
physical, linguistic and cultural expectations of "leaders";
unconscious bias and daily microaggressions;
perception (or reality) of lack of opportunities for women;
exclusive networking practices among "traditional leaders";
impostor syndrome and double standards; and
availability of mentorship and guidance.
Although there are many challenges shared by all genders in pursuing a leadership role, there are many that impact women's experiences in ways we may not understand if they are not part of our lived experience.
This webinar will provide a window into the potential experiences of aspiring women leaders so that we can be better prepared for the journey ourselves, or better support aspiring women leaders in our organizations.
Webinar Bonus
If you're able to attend the webinar you will get access to some practical resources to help you make an impact within your school setting – and a special bonus for those who are interested in joining our upcoming ECIS summer cohort of Women Who Lead.
If you'd like to join, but you can't make it, please let us know! You can leave a comment here, or reach out to us on social media at @edurolearning on Twitter or Instagram.
Find out more about Women Who Lead here.