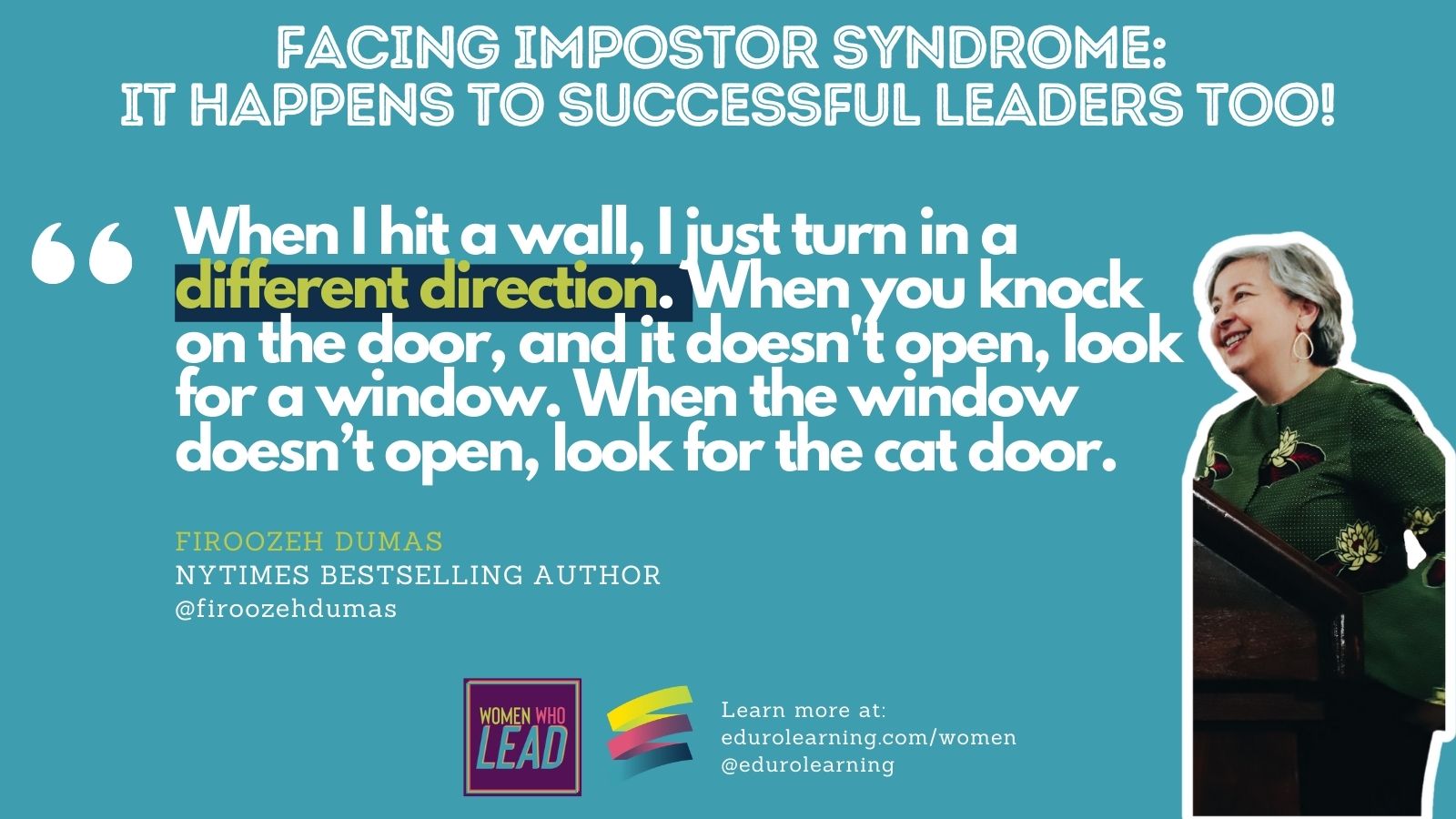 This article first appeared in The International Educator
The Women Who Lead Certificate program (https://edurolearning.com/women/) was inspired by conversations I was having on the #coachbetter podcast (http://coachbetter.tv/) with experienced women in education, many of whom described still feeling some level of imposter syndrome. Even though they were already accomplished in many ways, and were demonstrating their leadership in a variety of capacities, they still didn't quite feel like leaders. In fact, several of the women I reached out to for interviews for Women Who Lead felt reluctant to participate because they did not perceive themselves as a leader – even though they had been recommended by others as having been inspirational in their own leadership journey.
Impostor syndrome is defined in the Oxford Dictionary as: "the persistent inability to believe that one's success is deserved or has been legitimately achieved as a result of one's own efforts or skills." Despite concrete evidence to the contrary, many women feel that they haven't "earned" the right to apply for leadership positions, or that if they don't "tick all the boxes" on an application they shouldn't apply. If you feel like you're not ready for leadership, you're not alone. Almost all of the women I interviewed spoke about their experiences with imposter syndrome.
Manifestations of Impostor Syndrome Among Our Women Who Lead
Many women mentioned feeling so unsure of themselves that they might end up sabotaging their job search before it began. Rachel Caldwell, Director of Pechersk School in Kyiv, Ukraine, recognizes that she has had bouts of impostor syndrome throughout her career, facing feelings of self-doubt and inadequacy, in particular when looking at job descriptions. Despite being confident that she met the majority of the requirements, still wouldn't apply, even though she saw her male counterparts applying when they seemed to have fewer of the required skills and still being successful. 
Taking over an internal position at a school can also bring up discouraging doubts. Fiona Reynolds, Deputy Head of School at the American School of Bombay in India, talks about imposter syndrome as being a struggle where we're "faking it and we're not sure if we're making it." When she had the opportunity to be the acting Head of School, she became so stressed that the idea of taking on the role was physically making her suffer. When she realized that if she could be brave enough to be who she is, rather than worrying about filling the shoes of the previous head, then she could be successful.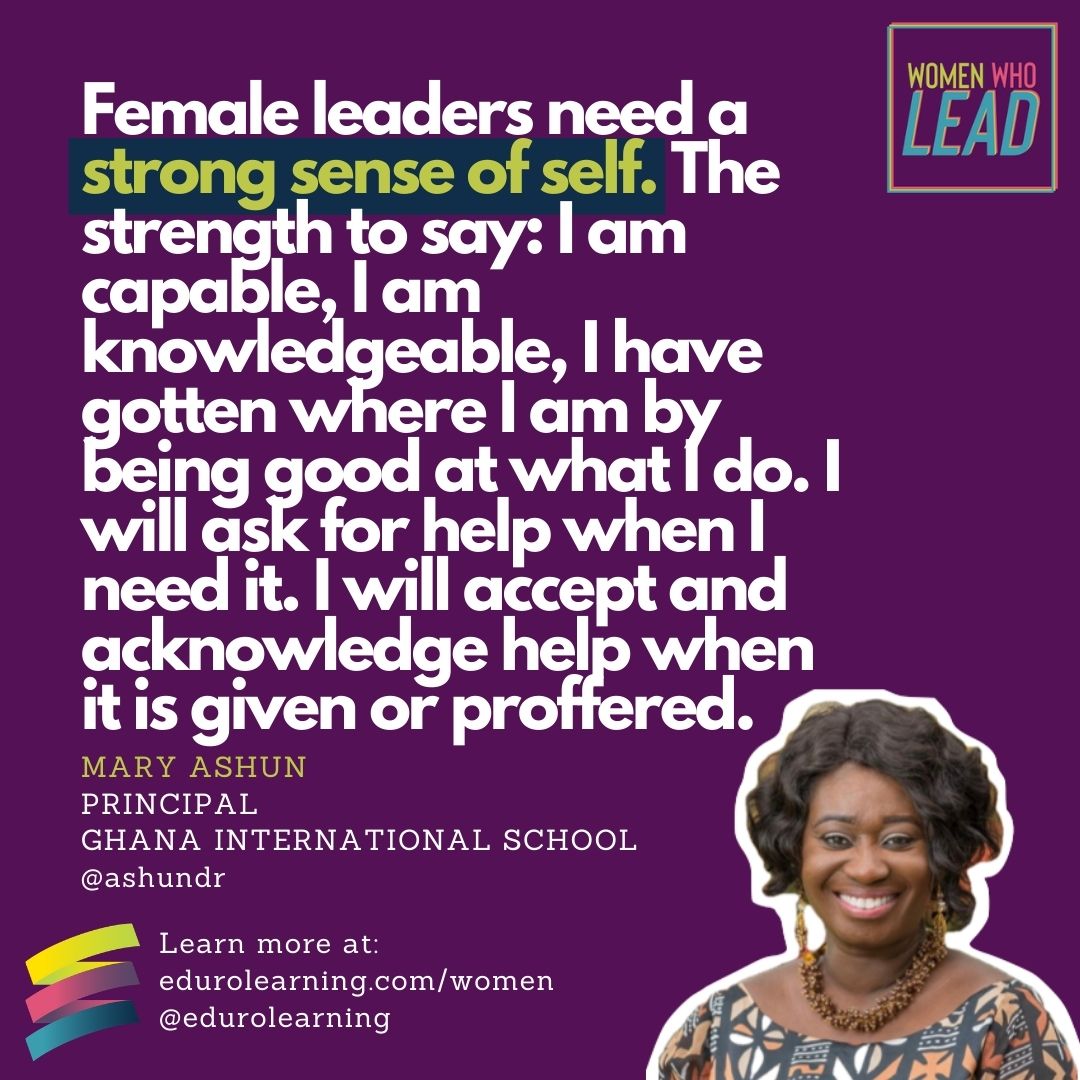 Implicit biases within the current system can also influence the feedback loop of impostor syndrome, according to Charlotte Diller, Director of Technology at International School Kuala Lumpur, Malaysia. She explains that, for example, if you notice that there are primarily women in ES and Curricular positions, and mostly men in Secondary and Head of School positions – perhaps reflecting the makeup of the hiring board – you might feel that "like only hires like" and to even further doubt your chances of success. As Charlotte points out, "even though we might be intentionally trying to have diverse representation, it still is skewed." Lack of diversity leads to implicit biases, which leads to inequity in positional leadership positions. When women are consistently confronted with the expectations of a certain look or identity being associated with a certain position, impostor syndrome becomes even more prevalent.
Everyday interactions, like navigating differences in communication styles where gender differences might be involved, can also add to imposter syndrome. Elsa Donahue, Head of School at Vientiane International School in Laos, believes imposter syndrome is more of a challenge for women than men, and that leaning into their competency is a unique challenge for female leaders. Even though she is a confident person and she believes in herself, she still faces moments of doubt. She goes on to highlight that in recent webinars for Heads of School, participants have been predominantly male, and she finds it "difficult to get a word in, to feel comfortable participating, when it's a large group and the majority happen to be male, and perhaps more dominant voices". Women need to know themselves well enough to know "how to find that point of equilibrium, when to lean in and when to interrupt, interacting in that sweet spot". 
If you are facing feelings of impostor syndrome, you are not alone. Hopefully hearing the stories of successful women will help you recognize this as a challenge that is not insurmountable. The Women Who Lead have provided a number of strategies for working through these feelings of self-doubt.
8 Strategies for Dealing with Impostor Syndrome
1: Cultivate Your Champions
A champion is someone in your corner, who advocates for you when you're recruiting. Erin Robinson, Middle School Principal at United World College Southeast Asia, Singapore, notes that women need to cultivate their champions. "Women are not too bad at finding mentors, but not champions". In order to cultivate your champions, Erin recommends that you focus on networking to find "someone who has a lot of power and who is well respected and who is willing to advocate for you". You may find that they recommend you for a position without explicitly being asked, other times you may have to ask if they would be willing to reach out to the Head of School on your behalf. Your champion can be anyone in the school community, even board members can reach out to other boards.
2: Remember, You Were Invited For a Reason
Emily Sargent Beasley, Head of Campus at SAS Pudong, reminds women to believe they were invited to an interview for a reason: the community sees something in you. Emily recommends being "incredibly true to who you are and don't worry about who's sitting next to you". Really recognize what it is you have to say and figure out how to integrate that into the questions that are being asked of you. Don't distort who you are because you're trying to compete with the person next to you.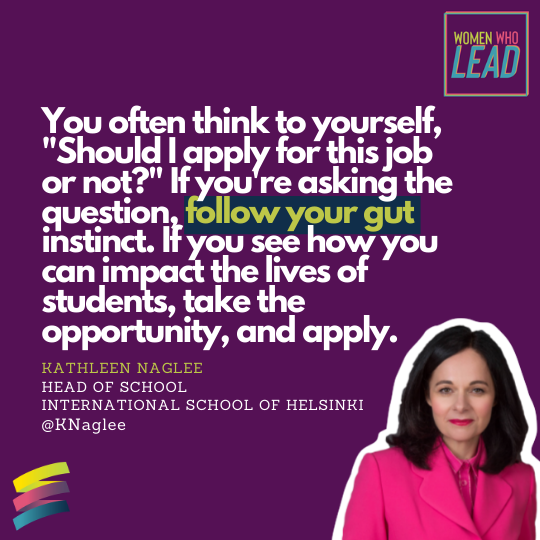 3: Recognize the Reality
The reality of job searches, particularly at higher levels, is that there are usually many political things going on in the background which aren't a reflection on you personally, according to Jane Thompson, Head of School at the American School of Paris. She notes that as you move into higher positions, the final job offer going to someone else is usually much more about the broader context of the position, but that your automatic reaction might be that if you don't get the job, you're terrible. As Jane explains, this actually just means that you're not the right fit for that school at that time, and that you should build up your capacity and your self-esteem to where you can realize that not being selected for a position is not necessarily any judgment on you or what you have to offer.
4: Find Your Own Way Into Leadership 
Jane also highlights the importance of trusting your instinct. She emphasizes that you should be willing to listen, to accept that you don't have all the answers, and that it's ok to ask for advice. She notes that "everybody needs to find their own way to leadership. You will find the right way for yourself. Trust yourself and do it". We've been seeing more and more role models handling things in new and different ways in recent years, underlining that there is plenty of space for individual paths to success.
---
Is it time to embrace YOUR Inner Leader?
Many of us are building leadership skills without even realizing it! Are you already demonstrating leadership potential in your current role? Is it time to take the next step in your leadership journey?

Take this quiz to recognize your leadership potential and identify where you can continue to grow!

These questions highlight informal leadership skills that are highly valued in successful formal leadership positions. How many are you already building?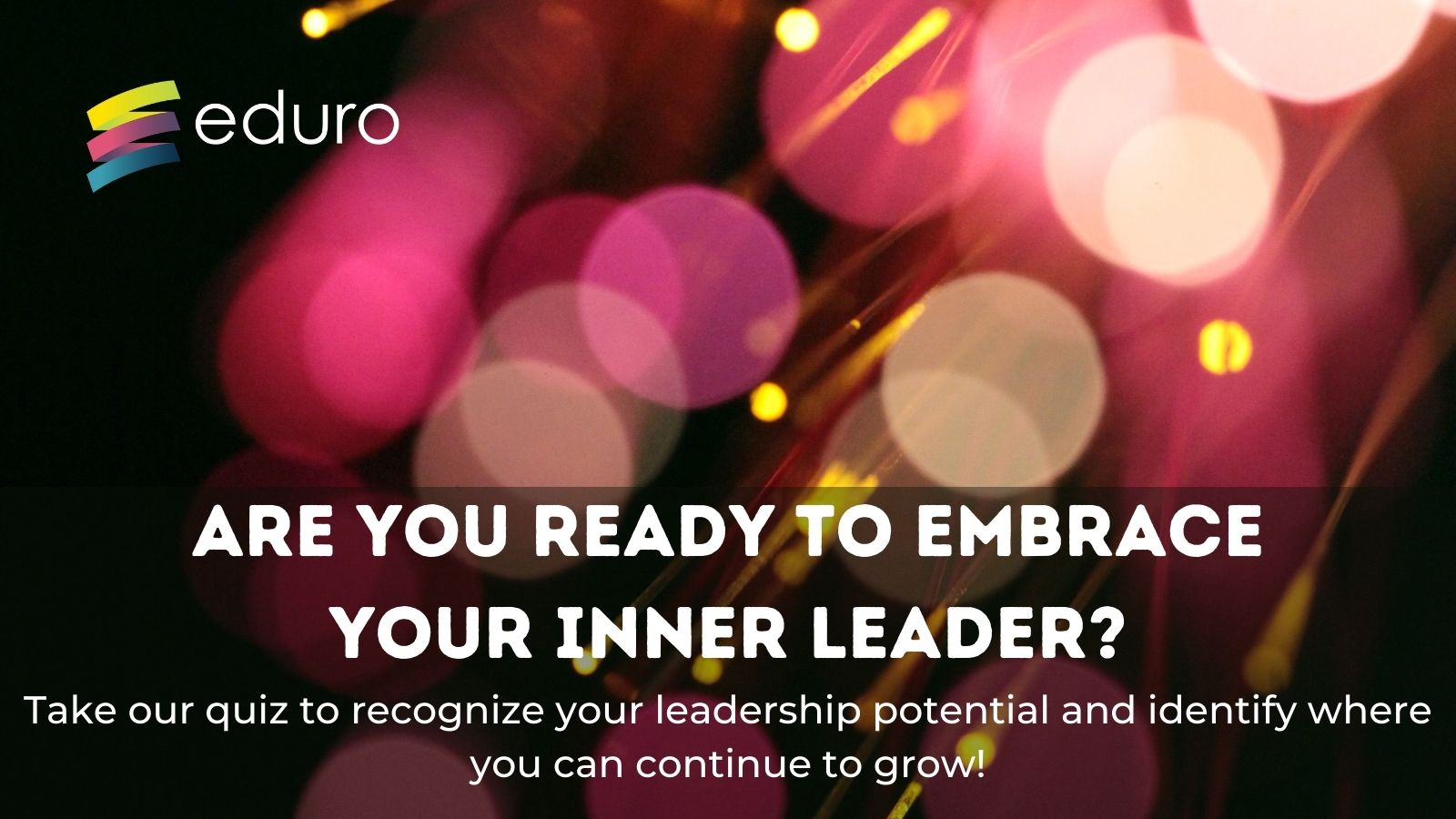 ---
5: Be Prepared
Preparation is key, according to Katrina Charles, IB DP Coordinator at the American School of Doha, who talks about the importance of entering a situation having done your research and being prepared with solutions for potential problems. As she explains, we need to recognize that we all have different advantages that we have to capitalize on. You don't need to "fit the mold" in your leadership journey – instead, highlight unique aspects about yourself. Follow things you're passionate about, and find ways to incorporate them in the interview process.
Perhaps most importantly, you can start right away by utilizing the current skill set you have to be a leader within your current position. As Katrina says: "there's leadership at every level: teacher leader, student leader: bring the best you can to that particular position. Don't look at tasks as if they're too menial for you – every little bit you do helps contribute to the greater good. You need to be able to see the glass as half full."
6: Be You, Be Courageous
Many of our Women Who Lead spoke about the importance of being authentically you. Arden Tyoschin, Head of School at Harare International School in Zimbabwe, says "in this unpredictable world, you have to have the courage to act and to make a decision and to make sure that your actions speak louder than words. It's hard but very fulfilling." Along those lines, Catriona Moran, Head of School at Saigon South International School in Vietnam, explains: "I learned I need to be authentic, that the person I was as a leader was the same person I was in life. Everything I did, reflected me as a person, but also me as a leader." And Dr. Chaunté Garrett, Charter School Superintendent in North Carolina USA, adds: "Vulnerability is one of the things I'm most proud of the leader I'm becoming right now. Nobody is ever going to get to know anything other than what you share, and if you're really going to thrive in a space, you have to bring your authentic self."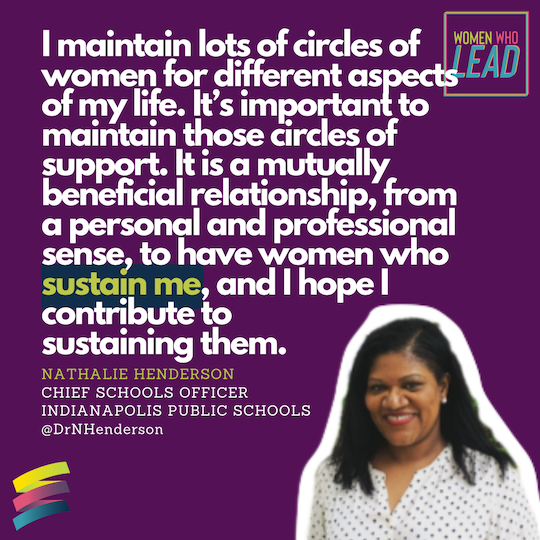 7: Find Your Community
In order to overcome her feelings of impostor syndrome, Rachel Caldwell, Director of Pechersk School in Kyiv Ukraine, found it incredibly helpful to have a coach. "Collaborating with others and having the support and being able to talk about that. Feeling that you can share those doubts that creep in, even now. You need your tribe."
8: Don't Give Up
"When I hit a wall I just turn in a different direction. When you knock on the door, look for the window. When the window doesn't open, look for the cat door." This is how Firoozeh Dumas, NY Times Bestselling author describes her persistent approach, adding that she's always looking to see how she can evolve. "You have to keep growing. If you ever think 'I'm done, I've arrived' you're going to be sorely disappointed – the world is constantly evolving. I'm always thinking, 'what unique contribution can I make?'" As difficult as it might seem at times, finding and maintaining this kind of resilient mindset can be essential to progress on a journey to leadership.
---
Build Your Community with Women Who Lead!
If you are dealing with impostor syndrome, remember that you are not alone. There are many different ways that these feelings can manifest, and recognizing that they are not insurmountable is the first step in dealing with them. If this is something that you are ready to develop in your leadership practice, there are many more stories, skills and strategies shared in the Women Who Lead Certificate program – designed for aspiring and growing leaders. Learn from the stories of over 70 successful women leaders and build your professional learning network in our global cohorts once a year, or start the program self-paced today!
Find out more at: https://edurolearning.com/women/.