Here at Eduro Learning, we are (always) on a learning journey. One of our recent points of focus has been on diversity, equity, inclusion and justice. Much of this work has been internal, for each of the members of our team individually, as well as for us as team working together.
However, we don't want the work to stop there. We know that this work is at the forefront of the minds of many educators, and we would like to do everything we can to support you. These conversations and this work is essential and we want to do our best to be able to bring that thinking to you.
Focused Conversations from the CoachBetter Podcast
During this first semester of the 2020 – 2021 academic year (Northern Hemisphere), we have shared a series of conversations on the #coachbetter podcast focused on the intersection of social justice and instructional coaching. To make it easier for you to find all of that content, we're sharing it here, in one post.
Creating a Culture of Equity and Inclusion with Ken Shelton
This #coachbetter episode features Ken Shelton, who is currently working with schools around the world on technology, equity and inclusion. Ken's extensive background with many different school communities provides lots of insight for those of us working towards social justice, and in particular through the lens of technology for equity. Listen to the full episode here, or watch the spotlight below.
Bringing Social Justice into the Classroom with Dr. Sawsan Jaber
In this episode, Kim talks with Dr. Sawsan Jaber, Founder of Education Unfiltered and High School English teacher in the Chicago area. They discuss, in-depth, how to get started bringing social justice conversations into your classroom, the value of vulnerability as an educator, and the power of technology as a tool for equity in all subject areas. Listen to the full episode here, or watch the spotlight below.
How to Bring an Equity Lens to Your Instructional Coaching Practice with Darnell Fine
If you are interested in bringing an equity lens to your coaching, this episode is for you! Kim has a conversation with Darnell Fine, an Instructional Coach at Singapore American School. Darnell is currently working on his doctorate in educational leadership from USC grounded in racial justice scholarship!
Darnell and Kim discuss the relationship between education, coaching and equity, successful strategies coaches can use when working to bring an equity lens to our coaching conversations with teachers – as well as pitfalls to avoid, how to identify if schools really are living their mission, and how to start these kinds of conversations on a school wide level – including with parents. Listen to the full episode here, or watch the Spotlight below:
Reflective Prompts to Help Teachers and Coaches Bring Social Justice into the Classroom with Alysa Perreras
This episode features Alysa Perraras, Diversity, Equity, Inclusion and Justice Coach at The Columbus School in Columbia. Over the past year, Alysa has worked with all stakeholder groups to build a vision and framework for social justice across the school.
Kim and Alysa discuss in-depth, how Alysa and her school community are building the systems needed to create "agents of change" including reflective prompts coaches and teachers can use to consider how we can bring a lens of justice and equity into every subject area. If you are curious about how to implement wide scale, school wide change, in particular through the lens of social justice and equity, this episode is for you! Listen to the full episode here, or watch the Spotlight below:
Take Your Learning Deeper with MastermindEd
Along with these conversations, as we have been connected with amazing and inspiring educators around the world that are doing this work, we have also been building our MastermindEd offerings. We have had two successful cohorts in the first semester of this academic year, and we have another one scheduled for Feb 2021.
Mapping a Path to Culturally Responsive Leadership with Darnell Fine & Renee Green in Feb 2021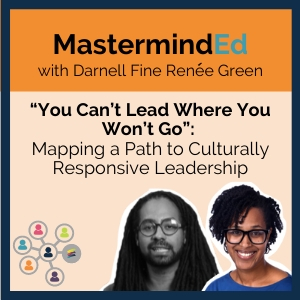 Inspired by Malcolm X's words, "We can't lead where we won't go," we invite you to take a journey of self-discovery and engage in the inner work of personal transformation. As leaders, we cannot expect our school communities to critically reflect on their biases if we don't do so ourselves.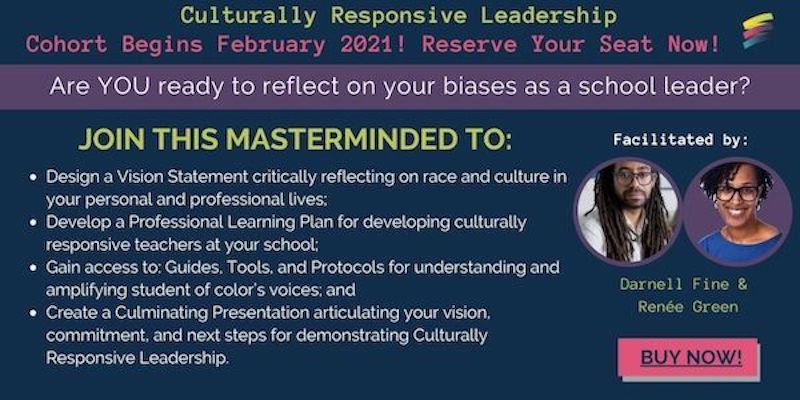 An Anti-Bias Approach to Education with Gary Gray in July 2020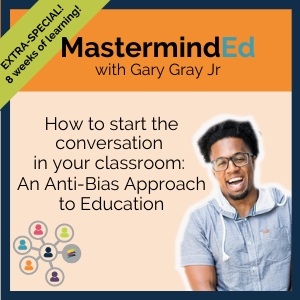 Within this online conversation, you will explore anti-bias education and techniques that will help students no longer be bystanders. We will look closely at ourselves and our own bias to start this work, and understand that "starting the conversation" goes beyond instruction and classroom culture. You will explore how to invite families and the community within this important work also.
Find out more about this cohort here (hopefully we will be able to run this again in 2021!
A Social Justice Toolkit for Your Classroom with Dr. Sawsan Jaber in Oct 2020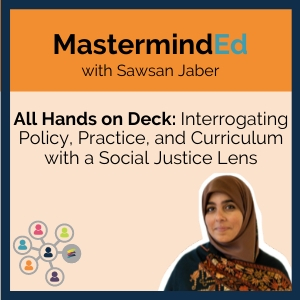 Cultivate the minds of your teachers and students by creating a community built on a social justice framework. Develop the knowledge and skills needed to enable you to do justice work. Learn how power and diversity define the human experience and perspective. Learn how school systems were designed to preserve the status quo and the role educators can play to dismantle those systems.
Find out more about this cohort here. We continue to work with Dr. Jaber on this, and new ideas for 2021. Keep your eyes peeled for updates!
Continuing to Move Forward
These are initial steps in our journey and we are committed to moving forward. We would love to do that with input and feedback from you! What would be most helpful in your learning journey? What would you like to see from us? How can we continue to support you, as we are learning and connecting and growing alongside you?